Internet Download Manager 6.05 Build 8 Final+ KeyGenPatch
Internet Download Manager (IDM) is a download manager that features an adaptive download logic accelerator, dynamic file segmentation and multi-part download technology to squeeze as much speed out of your connection as possible. IDM supports firewalls, proxy and mirror servers, FTP and HTTP protocols, redirects, cookies, download queues, user authorization, as well as music and video downloads.
You can create custom categories to keep track of your downloaded files, schedule downloads to start at a later time, pause/resume downloads, and more. The program also includes a "Grabber" feature that allows you to quickly download entire websites or extract files from it.
Other features include integration with all popular browser, drop target, batch downloads, HTTPS support, optional download quotas, FLV video grabber and more.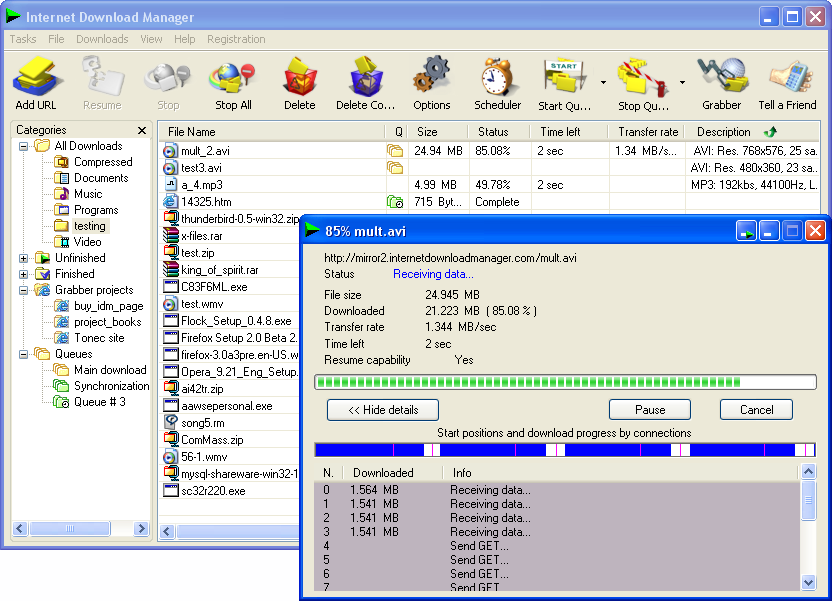 What's new in version 6.05 Build 10:
* Made a workaround to resolve compatibility problems of IDM network drivers with antiviral software drivers which caused some sites to load slowly in browsers.
Multilingual: English, Spanish, French, Italian, Deustch, Japanese, Portugues, etc
Compatible with: Windows 95/98/Me/2000/NT/XP/2003/Vista/Server 2008/7 (32/64-bit)