8. Cooliris
All your favorite content in one place. Cooliris for iPhone is simply the fastest way to find, consume, and share photos, videos and news on your iPhone.
Content is displayed on a stunning, endlessly streaming Cooliris Wall, and lets you easily search across YouTube, Google, Flickr, Picasa, deviantART, Yahoo, and more. You can watch music videos and TV shows, or catch up on Twitter with just the flick of a finger. If you find something cool, whether it is single photo/video or an entire stream of content, save it to your Cooliris Favorites to re-visit, or share it with your friends via Email or Twitter.
FEATURES
The Cooliris Wall makes finding and viewing the best content easy and fun
Find Photos, Watch Videos, Read News, or View Twitter Timelines: stay on top of the latest current events, updated in real time as they happen
Twitter Integration - "Tweet" or "Re-Tweet" your favorite content directly from the Wall or "Follow" new people
Access your Cooliris "Favorites" - View, Add and Remove media on-the-go (to sign up for an account, please go to http://register.cooliris.com)
Favorite and save any Wall, whether it is a search or stream of content
Subscribe to Media RSS feeds on your Wall, or launch any Media RSS feed from Safari using cooliris:// (Try cooliris://feeds.digg.com/digg/news/popular.rss)
Save interesting content straight to your device - check out our Wallpaper Channel
INTERACTIONS
1-Finger Swipe - Scroll the Wall
Pinch / Expand Wall - Zoom in/out
Single Tap - Select Media or go full screen
Tilt Wall - Scroll the Wall by tilting the device left or right
Click the "Home" Button - Show the main menu
Click the "Twitter" Icon - "Tweet" or "Retweet" content upon account login
Click the Metadata/Caption of a Tweet - Follow this Twitter user
Click the "Star" Icon - Add/remove this content to your Cooliris Favorites or subscribe to a Wall/feed (revisit it via Cooliris Favorites)
Click on the "Save" Icon - Save images to your photo roll
Click the "Envelope" Icon - Share media via the default Mail Client
Click the "i" Info icon - Shows/hides the metadata/caption panel
Click the Metadata/Caption in Channels, Searches, and Feeds - Opens the containing page web page without leaving Cooliris
9. LiveMixing VideoBox
LiveMixing VideoBox Solution is a video searching and sharing service across mobile, PC, and web.
It enables users to search and play videos from popular video sharing site on mobile device. In addition, user can share online videos to friends with VideoBox service.
Features
Search online video sites with keywords
Watch videos online
Share online videos to friends
Push online video to phone from PC
10. iMovie
Requires iPhone 4! Make beautiful HD movies anywhere with iMovie, the fun, feature-rich video editing app only for iPhone 4. Create a video postcard of your day at the beach and publish it to the web — without ever leaving your spot in the sand. Or make a movie of your child's birthday party and send it to your parents — while the party is in full swing. With iMovie for iPhone, you can start several projects and finish them whenever you want and wherever you are.
Made for Multi-Touch
Tap to add or record video right into your project.
Drag to trim the lengths of video clips and photos.
Pinch to zoom the timeline and get a closer look.
Slide to scrub through the video in your project.
Give it a theme
Choose from a selection of themes including Modern, Bright, Travel, Playful, and News.
Each theme includes a matching set of titles and transitions – plus its own soundtrack.
Instantly change themes or swap themed elements in your project.
Titles and graphics automatically update with location data from your video.
Add music and photos
Select from included music that matches each iMovie theme, or select from your own song library.
Enable ducking to automatically lower the volume of background music and highlight audio from video clips.
Add photos from your own library, or take a picture and drop it into your project.
Customize each photo with a unique "Ken Burns" panning effect.
Share your movie
Export your movie in one of three sizes: Medium, Large, or HD.
Share your movie on the web in a MobileMe gallery or on YouTube.
Send your movie to friends and family in an email or via an MMS message.
Easily sync your movie back to your computer.
11. Big Button Box Pro
Big Button Box Pro gives you 81 individual BIG BUTTONS that let off the BEST BOOMING SOUND EFFECTS!
There's nothing more satisfying than pressing a massive button and hearing a cool extra-loud, over-amplified, ear-piercing sound... and Big Button Box Pro let's you do this over and over and over!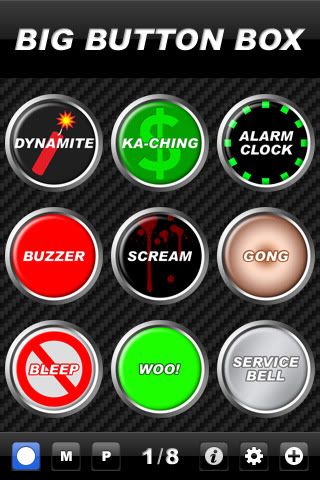 Features
81 Big Buttons
Three buttons modes: Use them as big buttons or choose to play them from the menu in two different ways
Sort the buttons into the order you want
M & P button modes
M: Monophonic mode: Pressing another button stops the sounds from the previous button pressed
P: Polyphonic mode: Sounds overlap each other. Press as many as you want and the sounds keep playing!
The big buttons included in Big Button Pro are:
Dynamite, Ka-Ching, Alarm Clock, Buzzer, Scream, Gong, Bleep, Woo!, Service Bell, Jackpot, Game Show, Cat Call, Gunshot, Woohoo!, Applause, You Suck!, Alarm, Loser, Ha-ha!, Uh-oh, Dog, Cat, Truck Horn, Burp, Fart, Excuse Me!
12. Type n Talk
Does your iPhone talk? With Type n Talk by Jirbo, you'll have your very own handheld robot friend. Simply type in a word, or even a whole phrase, and tap "Speak" to hear your iphone talk in a robotic voice. Confuse your friends with a mysterious voice coming from who knows where.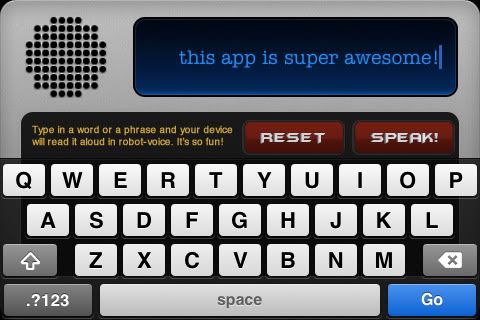 You type, it speaks
Cool robotic iPhone voice
Yes, it will say anything you type!