10-04-2012
Member

Join Date: Apr 2008

Posts: 513
Corsair Reveals Vengeance C70 PC case and Vengeance 2000 Wifi 7.1 Gaming headset
---
Corsair offers a new set of wifi headphone and pc case for gamers. This time extending the range of gaming line products Corsair introduce a new pc case called as Vengeance C70. Equipped with 8 PciE Slots, 2 USB 3.0, 6 SSD bays and extra space to add upto 10 fans at a time offers you to build the ultimate gaming pc. On the same as a addon you can go for Vengeance 2000 7.1 Gaming headset. A wireless headphone with high quality audio output. The headphone support high sensitivity microphone with noise cancellation feature. Rightnow it is assumed that the headphone is capable of providing a 10 hrs of battery life on the existing battery and ran upto 40feet. Both the products are not available and might take time to come in the market. The the actual release date is going to release till May. More detailed information on both the products is listed below. Anyhow it is nice to have a complete kit for a gaming pc and a wifi gaming headset give additional boost. Corsair offers a very nice range of gaming cpu case. Vengeance C70 is one of them. You have a look on the detailed specification to find what it offers. What really matters is a enough space for adding a number of cooler and on the same hand good psu support. I can say Vengeance C70 comes under a suitable range of mid tower system case for gaming cabinets. Talking about the look and design Vengeance C70 has a robust personality. With gray and black color support you can plan to have maximum hardware inside the sigle pack. Unlike traditional pc case this is a bit different. I had listed detailed feature of the same below.
If we talk about a Gaming headset what matters more is the comfortability. Gamers stick to a game for hours and hours. At that time the most annoying stuff is either your mouse or a headset which is needed to be upgraded always. The Vengeance 2000 series is designed for the same purpose. A very rich look with gray/black combination gives a distinct design to the headset. It heavy and can hold up your head with smooth edges on the headphone speakers. Supported wifi dongle offers you working frequency of 2.4Ghz under which you can use it in the range of 40feet or less. Not only dedicated for gaming the headphone are recommended for high quality music also. You are going to enjoy your high definition movies on the same. Equipped with highly sensitive mic allows you to have clear chat with your friend at the time of playing games. The mic also offer maximum noise cancellation so that only your voice reaches clearly to the other end. This is another distinctive feature. Though a high end headphone the usage and connectivity is very simple.
Vengeance 2000 Wifi 7.1 Gaming headset
The headset is design to high quality audio performance with better battery life. You can use the headphone for 10 hrs one charge up fully.
The HRTF positional audio technology helps you to clear and get advantage over other players. You can hear more accurate sound that you can find one 7.1 surround sound system.
The voice quality is much better with new technology so that you can hear a clear sound from the other side also.
Vengeance C70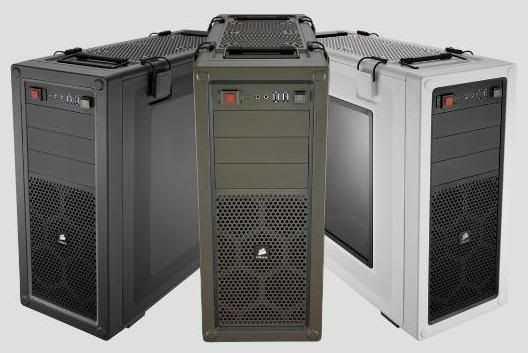 For gaming pc Vengeance C70 is a good choice. It is not a full tower system but good option under mid range. The body is made up of steel and offers more durability. The handling is super easy with attached gear on top.
For a gaming pc you need maximum hardware. Multiple gpu, liquid cooler, high performance psu, etc. Vengeance C70 has space for everything. It comes with 3 120mm fans and there are 7 points left for you to fit more cooler.
It comes with a upgrade choice for liquid cooling. Rightnow if you go for the liquid cooling version you get a 240mm radiator compatibility case. It is possible to add another 240mm radiator by adjusting the space in lower hard drive cage.
It is possible to add upto 3 gpus with no space limitation. There are 8 expansion slots available in the case.
USB 3.0 outlet are given on the front with ssd support. There are ample of room to fit a larger gpu and other hardware components.
The side panels are made more comfortable which opens up very easily. The side panels can be removed with easy latches so that can upgrade or add/remove components.
Technical Specification :
Room for two 240mm radiators when lower drive cage is removed for outstanding watercooling potential.
Tool-free thumbscrews for each of the eight expansion slots, making it easy to upgrade to dual, triple, or quad video card setups
Front panel USB 3.0 ports with internal header for modern peripherals
Tinted side window with dual fan mounts lets you cool, and view your hardware in style
Three 5.25? bays and Six 3.5?/2.5? hard drive bays for excellent expansion capabilities
Two included 120mm intake fans directly blowing across your GPU for maximum cooling potential, and a single 120mm fan for heat exhaust
Supports ATX and Micro ATX motherboards