Lexar, a leading global brand of flash memory products, has announced the JumpDrive Triton USB 3.0 flash drive. Available in three capacities i.e. 16GB, 32GB, and 64GB. The new JumpDrive Triton gives 20 times faster speed then the normal USB 2.0 flash drives. It offers 155MB per second read and 150MB per second write speeds, so that you will be able to transfer the contents really fast. The JumpDrive Triton is so fast that it just takes just 35 seconds to copy a 4GB high-definition (HD) movie, compared to the 11 minutes it used to take in USB 2.0 flash drive.
JumpDrive Triton USB 3.0 is currently the smallest high-performance USB 3.0 drives available in the market, that will allow you to store and transfer the data while you are on the go. It comes with a sleek metal alloy base and a high-gloss mirror finish that will enhance its looks.
In addition to the JumpDrive Triton, Lexar is also planning to launch JumpDrive S73 USB 3.0 flash drive which will give you further varieties in terms of storage. It will be available in 8GB, 16GB, 32GB, and 64GB capacities.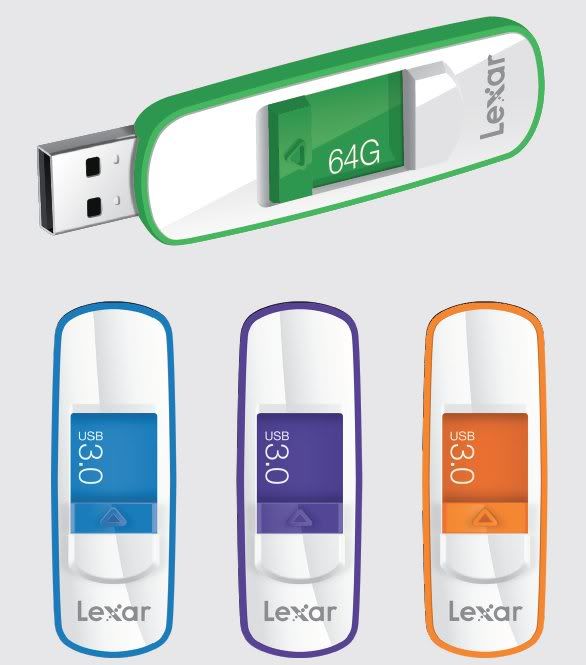 JumpDrive Triton as well as JumpDrive S73 flash drives will be compatible with the Mac and windows systems. The 16GB and 32GB models of JumpDrive Triton are currently available in popular online stores at the price range of $69.99 and $109.99, respectively. The JumpDrive S73 will be available in February with the following price range $27.99 (8GB), $42.99 (16GB), $74.99 (32GB), and $144.99 (64GB).