8. eBay for iPad
eBay is now open for business anytime, anywhere on the Apple iPad!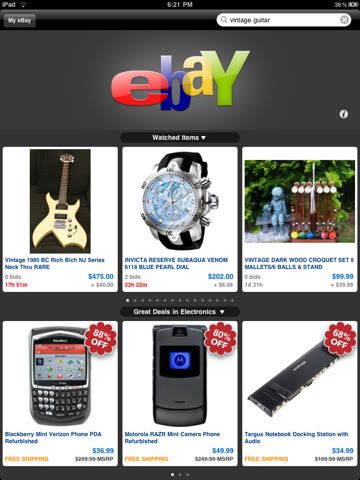 With a brand new simple interface optimized specifically for the features of the iPad, eBay members will enjoy a new rich search experience with seamless transitions, no pages, to buy and pay for items. Integrated access to My eBay makes it easy for members to quickly check on an auction or monitor sales activity from wherever their iPad has taken them. The eBay iPad experience is streamlined, colorful, and simpler than ever before!
And we won't stop there. We are already working hard to bring all the same great features (plus more) that you've come to expect from eBay Mobile - watch for updates soon!
9. Mailboxes
Mailboxes lets you share your iPad without having to share your Gmail as well.
The iPad is a wonderful shared device for areas like the living room, letting people browse the web and play games together. However, the iPad isn't ideal for reading email since Mail leaves your email either open for anyone to read, or else makes you have to lock the iPad behind a passcode so no-one else can use it.
Mailboxes solves this problem for Gmail and Google Apps users. You enter you account details and an optional passcode into Mailboxes. When you want to log into you account all you need to do is enter your passcode, Mailboxes will then load up your email in the familiar iPad-optimised Gmail web interface. Then, when you're done or the iPad locks we log you out, keeping your emails safe and secure.
Mailboxes is the easiest, safest way to access your Gmail or Google Apps account on a shared iPad.
10. textPlus
Free AND unlimited messaging - regular text or app to app - 1 to 1 or in groups, and it?s the ONLY app with Mobile Social Communities.
textPlus brings texting to the iPad ? no number required. textPlus is the only FREE, UNLIMITED & GROUP TEXTING app for the iPad. Send and receive texts with friends on ANY phone. Or, text app-to-app free anywhere in the world.
Take your conversations with you: Start a conversation on your iPad, pick it up later on your iPhone ? seamlessly.
textPlus Address & 60611: Sign up for your textPlus Address (username). Friends on textPlus can text it directly from the app ? for free. Friends not on the app can text your textPlus address to our short code, 60611,
Communities: Make group text conversations for work, school or social circles and turn them into your own personal communities. Name them, save them and invite others to join.
International: Text app-to-app for free anywhere in the world.
11. iTeleport
Access your stuff from anywhere in the world. Control your desktop with the tips of your fingers.
Run your applications: Run all your Mac and Windows applications from your iPad. Edit a Microsoft Powerpoint presentation, export a song from Garageband, refine an image with Photoshop. Use the iPad's beautiful, high-resolution display to bring your full desktop to your fingers.
Access your files: Forgot the essay you wrote in Microsoft Word at home? Need to email a Keynote presentation to your coworker before a big meeting? Not to worry. With iTeleport for iPad, you'll have access to all your files anywhere in the world.
Effortless setup: Set up iTeleport for iPad in minutes with iTeleport Connect for Mac and Windows. Remote desktop is typically difficult to setup, with obscure terminology and advanced technical knowledge required. With iTeleport for iPad, all you need is iTeleport Connect and your Google credentials, and you're ready to go.
Browse the full web, including Flash: Transform your iPad into a full-fledged web browser. Browse the web, including Flash sites, in your favorite browser. Want to browse a Flash news site in Firefox? Check. Want to play Farmville in Microsoft IE? Check.
Remote control: Control your desktop applications with a remote control view redesigned specifically for iTeleport for iPad. Skip songs, pause, or change the volume with full support for media keys. Switch applications with the tap of a button. Use the arrow keys to navigate Front Row from the comfort of your couch.
Performance: Speedy scrolling, fast zooming, brilliant colors and HD resolution make iTeleport for iPad a joy to use. Built on the same core engine as iTeleport: Jaadu VNC for the iPhone/iPod touch, iTeleport for iPad takes advantage of the iPad's powerful A4 processor and huge 1024x768 display.
Accessories: iTeleport for iPad supports all standard accessories for iPad. With a keyboard dock, edit documents with ease. Take notes in class or write the next chapter in your novel. Turn your iPad into a powerful mobile workstation.
12. Desktop Connect
Desktop Connect is a fast, full-featured desktop viewer, optimized specifically for the iPad. View and control Windows, Mac OSX and Linux computers as if you were sitting in front of them, or observe others as if you were watching over their shoulder. Desktop Connect is the only iPad app that will automatically discover all of your computers on your local network. It uniquely offers support for both VNC and Microsoft Remote Desktop (RDP).
Desktop Connect enables your iPad to:
View websites with Adobe Flash.
Launch and view any application on your desktop.
Remotely control Media Players and PowerPoint Presentations.
Access an important business document while you travel.
Guide your office adminstrator as you watch the desktop remotely.
Help your grandmother on her computer as she downloads your childhood photos.
Desktop Connect is built to fully leverage the iPad:
Captures a Screenshot of your last session for easy future reference to connect.
Single Click Connect where no setup is required.
Optimized Performance for fast and responsive control of your computer.
Browse easily through all computers on your network.
Bookmark your favorite frequently used computers for convenient access.
Use your iPad as a touchscreen or as a touchpad.
13. QNotifier Linux Server Monitoring
Qnotifier is an iPhone and iPad based Linux server monitoring application. Qnotifier allows you to monitor your Linux based servers by placing a small Ruby agent application on them. This agent then reports server statistics and events to the Qnotifier network which will then in turn alert you on your iPhone/iPad if there's any trouble.
The best way to monitor your servers: Installing large monitoring applications is difficult and time consuming, especially if you only have a handful of servers to manage. Qnotifier is an effective way to monitor smaller clusters of servers using a beautiful and responsive interface.
iPad and IOS 4 support: Qnotifier is a universal app and supports both the iPad and iOS 4 multitasking features such as fast application switching. The same functionality is available on both platforms, the iPad just gives you much more room to see your servers.