Apple has recently announced the developer preview of Mac OS X?s latest version named as ?Mountain Lion.? The surprising part with this release is losing the the word "Mac? from the name of the operating system. Now it is just OS X. Apple released this new OS before the WWDC conference just to offer developers time to test and find out as much bug as they can before the release.
This is not just a change of name, in fact Apple is decreasing the boundaries between desktop and mobile systems. The OS will integrate some of the main features of IOS. The first steps in this direction is like iChat disappears and becomes a version of IMessage, iCal becomes much more like Calendar and incorporates a notification center to the desktop, as in iPhone, iPhone and iPod touch.
Social networks have become more integrated in this new system. For example, twitter integration, sending status or sharing content can be virtually from any context menu. Again, these changes have been made or taken from iOS devices. Sign in once and you?re all set to start tweeting ? and you don?t have to leave the app you?re in. Tweet links and photos directly from Safari, iPhoto, or Photo Booth with the new Tweet Sheet. It is also easy to post photos and videos to hosting Flickr and Vimeo. But again, Facebook is not in favor - no special integration of the social giant has been provided.
New Mountain Lion will also replace the notifications Growl, popular for several years on the Apple platform. Those who have already tried it on their smartphone or tablet will not be lost since it is identical. It can be called by a button to the right of Spotlight in menu bar or by a new gesture multitouch trackpad and then appears on the right of the screen. Something new is always popping up somewhere on your Mac ? an email, an instant message, a friend request, a calendar alert, and more. Notification Center makes it easy to stay up to speed, because there?s one place to see everything. Notification banners appear on your desktop and disappear quickly so they don?t interrupt what you?re doing. Swipe to the left, and you?ll see all your notifications in a simple, ordered list. So you?ll always know what?s up as soon as it comes up.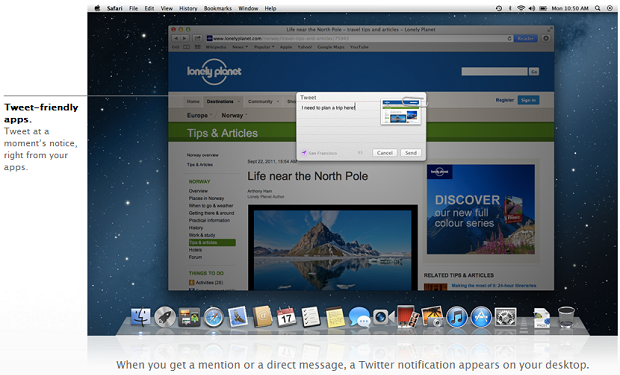 Among another changes, there is no more iChat. It has been replaced with iOS iMessage. But yet, here ?i? is missing from the name and its just ?Message?. Messages does everything iChat does, and so much more. For starters, it comes with iMessage. And just like iMessage in iOS, it lets you send unlimited messages to anyone on a Mac or an iPhone, iPad, or iPod touch running iOS 5. Send photos, videos, documents, and contacts ? even send messages to a group. You can see when your message has been delivered and when someone?s typing a reply. Turn on read receipts, and they?ll see when you?ve read a message. With end-to-end encryption, your messages stay safe and private. And you can start a conversation on your Mac and pick it up on your iPhone, iPad, or iPod touch. So nothing is left unsaid.
Communication can be carried out as in "apple" protocol, with the other owners of devices Apple, and the owners of other devices. Just as before, supported by Google Talk, Jabber and ICQ . But the ability to communicate with friends in Facebook is not - yet another confirmation that Apple could not agree with the number 1 social network.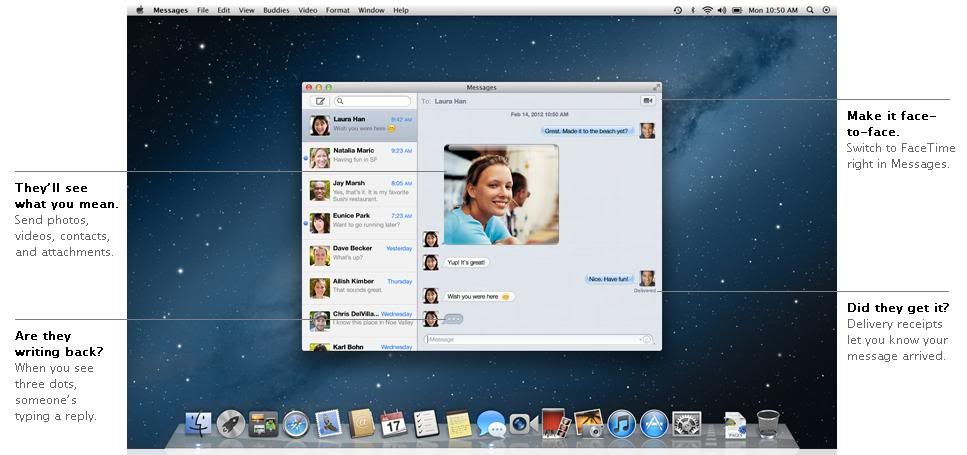 Mountain Lion OS X also provides the functionality to Mac Airplay that advertises the image of its screen to a TV via an AppleTV. The audio is in stereo and then the video is limited to 720p, but the system will automatically adjust to the best resolution. It should be noted that for copyright reasons, the computer screen will be black when showing a movie or series from iTunes.