The HTC 7 Pro is a smartphone based on Microsoft's Windows Phone 7 operating system. It is the first in the German market with the OS that has a full QWERTY keyboard. The HTC 7 Pro operated on a 3.6-inch TFT display that offers a resolution of 480 x 800 pixels. For photos and videos you have a camera with 5 megapixels are available. The final pictures so they can place on the 8 GB internal memory. As terminals on the HTC 7 Pro Bluetooth, USB and a 3.5 mm jack for conventional headphones available. Connections, you can set up Wi-Fi, Quad band GSM, GPRS, EDGE, UMTS and HSDPA / HSUPA. Finally, the HTC has 7 Pro with GPS for easy navigation.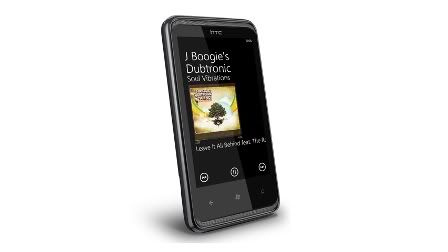 Design and Display
The design of this HTC 7 Pro is slightly different from the other signed by HTC mobile phones, since as a differentiating feature incorporates a full QWERTY keyboard and sliding. We'll find this hiding behind the screen. The HTC 7 Pro is a phone that measures 59 x 15.5 x 117.5 mm and weighs 185 grams, so this is a terminal that weighs a bit more than usual. In fact, you can see that is a little thicker with respect to others.
The design is rounded and are perfectly adapted to the ergonomics of our hand. The display occupies part of the front extension of the phone, as with all touch-screen terminals. In this regard, the panel measured the 3.6-inch touchscreen and has a WVGA resolution of 480 x 800 pixels. Although smaller than other similar screens embedded in phones, it is equally easy to use touch, without bringing any additional problem for users who want to manage all your personal and professional lives through mobile.
Connectivity and operating system:
When we are thinking about buying a new mobile phone, a basic premise now is that of connectivity. And is that a terminal not equipped can bring real problems gaining access to the network normally. In this sense, the HTC 7 Pro (and all phones that HTC has introduced lately) do not show any deficit. According to its data sheet, we can say that operates on 850/900/1800/1900 MHz GSM and HSPA / WCDMA 900/2100 MHz. In this sense, we know that works perfectly over 3G networks with the broadband Internet access that will allow us a more agile way to do the Internet download e-mail, navigating between pages, and so on. But that's not all, since the HTC 7 Pro also applies to wireless networks using Wi-Fi protocol 802.11 b/g/n. Users can also enjoy Bluetooth 2.1 + EDR with A2DP, AVRCP, HFP, HSP and PBAP.
In the section on external connections, it must be said that the new HTC 7 Pro is integrated into the basics. This means that we have an output of 3.5 millimeter headphone jack and a micro-USB 2.0 port that it is helpful to connect your phone to your computer, synchronize files and even charge the battery without having to connect directly to the wall energy. The operating system chosen for this HTC Phone 7 Pro is Windows 7, the new and well-known operating system Microsoft has released, platforms based on tactile and thought through a structure of cubes. They give us access to various phone features, such as social networking, multimedia options or camera, to name just a few menu options. The fact is that all the internal structure of this terminal runs through a processor that runs at 1 GHz.