| | |
| --- | --- |
| Spykar | 10-09-2010 11:18 AM |
---
Re: HP Elitebook 8540W Review

Configuration and Accessories:
The standard ports for the included HP Elitebook are remarkable. Everything is available beyond the dreams of many users. With three USB ports and two USB 3.0 you have enough USB ports to connect all your devices, such as printers, the USB drive, digital cameras, etc., but you can also quickly connect external hard drives. Including food. We have identified a max. 29.4 Mb / s for USB 2.0 max. 109 Mb / s for USB 3.0. TheeSATA offers an additional opportunity for fast connections (102.6 MB / s) and Firewire particularly pleased fans of video and those who come from Mac (FW400 4-pin / 34.5 MB / s). If this is not enough, you have an option to upgrade with ExpressCard54, which can be equipped with many additional functions.
Gigabit LAN, WLAN 802.11 abgn, Bluetooth, Card Reader 6-in-1 (SD 1.7 MB / s, SD-HC 1.5 MB / s, XD 1.7 MB / s), SmardCard reader, fingerprint reader emprentes A Trusted Platform Module and a keyboard light does webcam complete the picture. By cons performance card readers were ridiculous.
For external displays ago displayport and the VGA port to continue using your old screens. For all the cons are wearing on right and left sides because the front is not well designed and the rear is occupied by the battery. The ports are so many it takes to try several times to fall on the right port. Right-handers have an advantage in terms of available ports. The majority of the ports is on the left. By cons USB ports may be too close to each other for some USB.
Communication: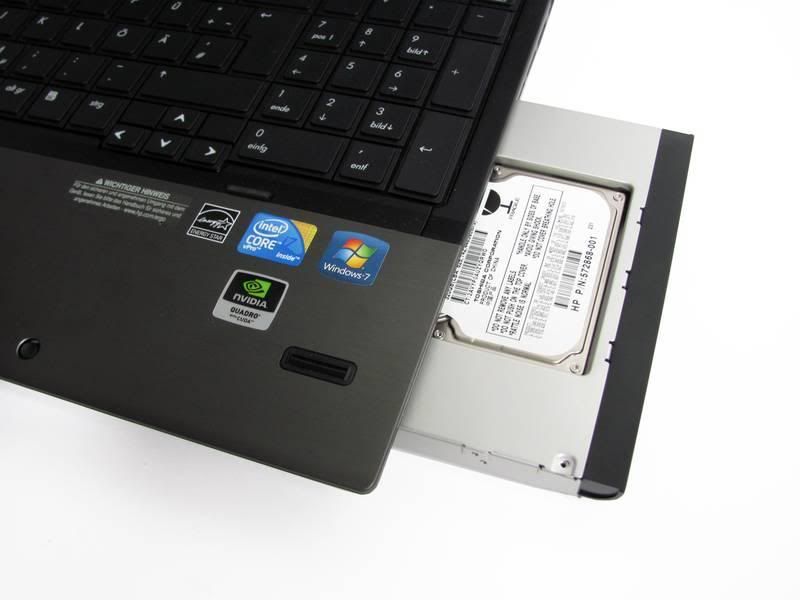 Firstly, there is a modem with HSPA GPS, but it is optional. But it has antennas. The SIM slot under the battery.
Extensibility
There is a port dock "HP Docking Station (VB043AA) and HP Advanced Docking Station (NZ223AA). The dock allows users to use more sedentary ports. The Advanced Docking has a SATA port, 2 ports and 2 display DVIS. The optical drive is removable, it can be replaced with a 500GB hard drive (7200 rpm). Price 200.00 euro. By cons you can find yourself at $ 55.00. Accessories / Support. Note that the numbering of HP accessories is not transparent it is difficult to find the right product on the HP site. Generally we really struggled to contact the technical service of HP, we had to call the service 4 times before landing on a human.