6. Hipstamatic
Digital photography never looked so analog. The Hipstamatic brings back the look, feel, unpredictable beauty, and fun of plastic toy cameras of the past! The Hipstamatic keeps the the quirks of shooting old school but gives you the ability to swap lenses, film, and flash settings all with the swipe of a finger.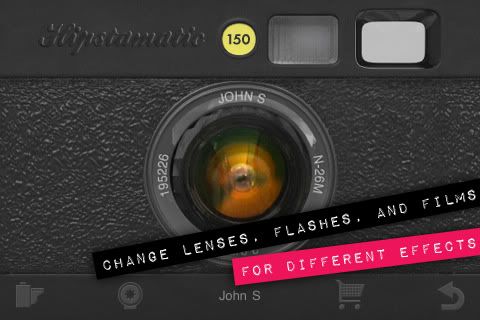 Characterized by vignettes, blurring, over saturation, discolored images, Hipstaprints have a casual and seemingly accidental snapshot feel. The Hipstamatic can be downloaded to any iPhone sporting the 3.1 or beyond software update. For $1.99 you can download the base model Hipstamatic 150 which includes the John S, Jimmy, and Kaimal Lenses, as well as Blanko, Ina's 1969, and Kodot Verichrome film and two standard flashes complete with humming sound. Additional lenses, films, and flashes are bundled within the app as 'Hipstapaks' and start at 99 cents. Each Hipstapak includes multiple items.
Pictures taken with the Hipstamatic have their very own look and unique character. Artistic and painted with light and quirk, Hipstamatic images are sometimes surprising and offer a delicate beauty turning any iPhone into an instant art making machine. Images can be uploaded directly to Facebook, Flickr, or emailed to your friends and family.
7. Color Splash
ColorSplash lets you quickly and easily give photos a dramatic look by converting them to black and white, while keeping your chosen details in color. This effect draws the viewers' attention to the colored areas, creating striking images.
The intuitive and responsive multi-touch user interface makes ColorSplash amazingly easy and fun to use. Use your finger as a brush to "paint" sections of your image black and white, or to bring back the original color. Zooming in and out using the two-finger pinching gesture allows you to work on details with pixel-accuracy.
Features
Video tutorials and detailed written instructions will have you editing your images in minutes.
Share your edited images on Facebook, Flickr or Twitter.
Save multiple sessions to resume your work later.
Undo any number of accidental brush strokes.
An alternative view mode highlights the regions that will remain in color with a red tint. This makes it easier to see and adjust the boundaries between color and black & white regions.
Choose from 4 different brushes (hard or soft edged, opaque or transparent)
Work in landscape or portrait orientation.
Hide the toolbars in full screen mode.
8. Camera+
Camera+ will help bring that creativity out in you, all with a fun, innovative, and beautiful design.
No more blurry shots: Use the stabilizer to steady your camera and get the sharpest pics you can.
Highest quality zoom: Camera+ has a 5× digital zoom that simply blows away the competition in terms of quality.
Put an end to crooked pics: Use the grid to line up your shots and eliminate unsightly angled photos.
Innovative Lightbox helps you easily manage your new photos and avoid junking-up your camera roll: All the pics you take in Camera+ go in the Lightbox where you can quickly and easily skim through them and rid bad shots. You save only the photos you're satisfied with so that your camera roll stays neat and clean. And here's where the power of Camera+ really shines because we've included some of the most powerful image editing available on your iPhone so that you can get some unbelievably good looking photos.
Scene modes and flash: Most modern digital cameras all have scene modes to help you get the best photos for your particular situation. And why shouldn't your iPhone have this great feature? Well, with Camera+, you get to choose from several scene modes including Backlit, Sunset, Night, Portrait, Beach, and many more. If you just want great looking shots with the least amount of fuss, just tap Auto and watch your lifeless pics come alive. And for the times when your photos came out too dark, we have a high quality digital flash to make them look great.
Crops let you frame your pics perfectly: If you didn't line up your shot perfectly when you took it, you can easily fix that with Camera+. And when you want to get a bit creative, we setup a bunch of popular crop sizes for you. With a single tap, you can make your pics square, 4×6, 8×10, etc. We've even included a "golden ratio" crop to get the most aesthetically pleasing results.
Dozens of amazing effects: We partnered with professional photographer, Lisa Bettany, to bring you a slew of stunningly beautiful effects. With a single tap, you can transform a soulless pic into a work of art. Make your photos shimmer with "HDR"… get down and dirty with "Grunge"… fill your pics with emotion and despair with "So Emo". And this is just the tip of the iceberg… there are dozens of 1-touch effects for you to experiment with so that you can get the perfect result every time.
Wrap it all up with stylish borders: With Camera+, you get several great border designs so that you can put the finishing touch on your photos.
Share your creations: Whether you want to show your results to your friends and family or the whole world, Camera+ has got you covered. Share your pics on Facebook, Twitter, and Flickr. Or go the simple route and email them from right within the app.
9. Qik Video Camera Pro
Qik Video Camera Pro brings powerful video capabilities to iPhone 2G, 3G and 3GS. Qik makes it easy to record special moments wherever you are and share them with others right as they happen or anytime later.
With a tap of a button, you can share your live or previously recorded videos with friends and family through:
Facebook, Twitter, YouTube, your blog and many other sites
SMS or email
Your personal video page on Qik.com/yourname
FEATURES
Smooth zoom and brightness control
Audio gain control
Capture photos - Freeze precious moments by snapping a photo right as you are recording videos
Text chat - Viewers watching your live video on the web can text chat back
Export videos to phone's gallery (auto-export option in settings)
Download videos to your desktop via local Wi-Fi
Standby mode - Save your battery
Stop and Pause buttons
Portrait or landscape recording
Record "offline" for the highest possible resolution your camera will allow.
Record "online" for the fastest upload time for live sharing.
Audio feedback for record, stop and play buttons
Special for 3GS users: Upload videos taken with your phone's native video recorder and take advantage of Qik's easy sharing options (to Facebook, Twitter, your qik.com page, etc.)
10. IncrediBooth
Step up, sit down, and get ready to cram as many of your friends together as possible. The photo booth has returned, and it's incredible. No coins needed. No hunting down old dirty dive bars to only find a machine that is no longer in service. Be the live of any party and bring your IncrediBooth with you.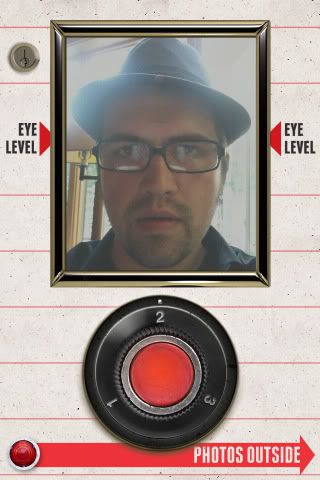 Bring happiness to any event, party, or lonely evening.
Uses the awesome new front-facing camera, only on iPhone 4!
Take photo strips with 3 different retro effects
Share the whole strip or just one at a time
Upload direct to Facebook, send in an email, or export to your Photo Library
11. FX Photo Studio
FX Photo Studio features the broadest selection of high-quality photographic effects at the App Store (Currently 140 Effects).
By pressing one button you can turn your shot into a retro photo or a picture drawn by a pencil or paints, or done in a Modern Art style. Alternatively, you can simply add a pretty frame of flowers or butterflies. Or whatever else you might desire – the choice is practically unlimited!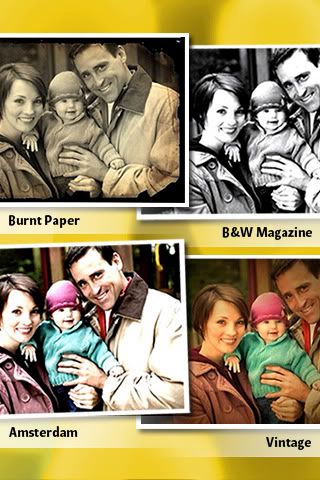 Here is just a short list of some effects contained in the application:
Vintage, Black and White, Night Vision, Pencil Paint, False Mirror, Ghost, Neon Light, Hue Green, Ripped Glass, Rainbow Palette, Scary Face, Ancient Canvas, Steamy Window, Stardust Frame, Mosaic, Burnt Paper, Explosion, Old Film Frame, Bump Mapping, Solarize, Tritone, Old Photo, Frost, Old TV and there are many many more!
What's the sense of buying numerous different applications containing only a small number of effects, if you can purchase FX Photo Studio, which currently features 140 most diverse filters and effects! You will surely find those which are most suitable for your needs.
Maximum ease and comfort in usage were our main goals when creating the user interface. Just enjoy experimenting with your photos and leave other concerns aside!
Besides the effects, you can make use of such instruments as Crop (with cropping area rotation), Brightness adjustments, Flip and other possibilities for quick modification of your photos.
You can store the resulting photos with the maximum quality available at your device (up to 2058*1536 for iPhone 3Gs).
Moreover, you can easily send your pics to E-Mail, Facebook or Twitter directly from the application!
And that's not all! Of course, 140 effects offer broad possibilities, but you should keep in mind that you can easily mix any effects as many times as you wish thus creating your own unique effects! Possibilities for experimenting are enormous end number of resulting effects - truly endless!
Features
140 Photo Effects (This number continues to grow with regular Free updates!)
15 Different Categories
Multistep Undo and Redo
'Resume from previous session' feature
Crop image
Crop area rotation
Rotate and flip image
Brightness adjustments
Filters previews
Random filter selection feature
You can add any filter to favorites
Compatibility with iPhone OS 3.0 and OS 3.1
Take Instant Photo feature (for iPhones only)
You can easily import pictures from Photo Albums on your device
Automatic rotation of picture imported with wrong orientation
Portrait and landscape modes supported
All resulting images can be saved to "Camera Roll" or "Saved Photos"
High resolution support up to 2048*1600 pixels
Upload resulting images to Twitter and Facebook from the app
E-Mail image from the app
Copy Image to Clipboard from the app for later use in others apps
You can easily combine all filters with each other, creating infinite numbers of your own unique effects
Intuitive, easy to use user interface designed by usability professionals
12. iVideoCamera
Now any iPhone (EDGE, 1G, 2G, 3G, 3GS) can record videos. Plus we give you 20 live effects to record videos with!
Now share your videos on your favorite social networks:
Facebook
SMS Link Sharing (experimental see notes)
Twitter with TwitVid
Email
YouTube
Camera Roll Export for trimming/editing
Flickr Video
Vimeo
12Seconds.tv
20 FREE Effects (4 are hidden 'easter egg' effects)
Vintage Video, Heat Vision, Snow Globe, Breaking News,
Infinite Zoom, Vintage Black & White, Night Vision, Scrolling Text,
Spy Cam, Solarize, Water Reflect, Title Maker,
Obama Vision, Sparkles, Soft Glow, Dancing Hearts
(and 4 more that are hidden - hint: check the help section)
1x,2x and 4x Digital Zoom by double-clicking screen or using the toolbar button during recording. Integrated video library lets you manage and keep track of saved videos. Every video is automatically saved. WiFi video sharing for over-the-air transfer to any computer with a web browser. FTP video transfer using your favorite FTP client.
Landscape Recording in both orientations
How to Pause Recording: Press the little arrow in the lower right-hand corner and recording will be paused while the FX pop-up is showing, click it again to un-pause.
2 Quality Modes: High Quality gives 320x400 resolution, while Low Quality gives smaller file sizes for faster uploading.
3GS Users: Now that this app has effects it's a great app for you too - don't think it's just for older phones, with the effects you will be amazed at the videos you can make.
13. Diptic
Diptic lets you quickly and easily combine two or three of your photos to create a new image. The resulting photograph is called a diptych (if it is made up of two images) or a triptych (if it is made up of three images). Diptychs and triptychs have been used for many years in art photography. Now, with the Diptic app, you too can quickly and easily create diptychs and triptychs.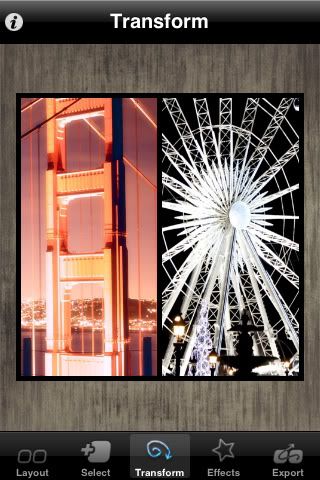 Diptic allows users to tell a story with photo combinations. With Diptic you can quickly and easily create a before-and-after sequence, produce a photographic series, or juxtapose contrasting images.
Features
Snap photos on the spot with an iPhone camera, or pick any photo from your camera roll and albums.
Brightness, contrast and color saturation controls for each image
A choice of five different layouts
The ability to pan, rotate, mirror and zoom individual photos
Customizable Border controls for color and width
A simple and intuitive interface
Export to email or camera roll
Compatible with iPhone, iPad and iPod Touch
14. PhotoWizard-Editor
Powerful photo editor for editing your photos on iPhone/iPod.
Either on the full image or selectively apply filters with advanced image masking tools. Mask a portion of an image with a magic touch. Apply any filter to the unmasked portion from a wider range of filter choices. Apply multiple filters to achieve custom effects. For example you can easily create color splash, hue splash, tilt shift etc. just by combining mask and filters.
Mask image with magic touch, color, brush or shape.
38 filters and special effects.
Unlimited undo/redo (Swipe left/right on the home screen)
Adjust filter parameters according to your liking.
Accumulate multiple filters/masks to achieve unique effect.
Crop, Straighten, Rotate, Flip with touch.
Auto-save session.
Resume last session in a fraction of a second.
Save, E-Mail, share in Facebook, Twitter.
Intuitive UI design.
High resolution export.
In the collection of filters you will find all necessary filters like exposure, contrast, saturation, sharpness, unsharp mask, blur, color balance, histogram, curves, high dynamic range, white balance, noise reduction etc.
In effects there are wide range of special effects like cross process, many distortions, artistic and many other kind of effects and the list if growing with every update.
You can close the application any time you want and come back later and resume last session where you ended, with all undo, redo levels and the mask.