Zynga has brought the new game by name Ruby Blast on Facebook. Ruby Blast is a game from match 3 colors type of arcade style game, but Zynga has added a new factor to this game by having a survival type of gameplay in this Ruby Blast. Here in this guide, I will provide information related to features of this game, power-ups and bonus items, strategies and other such things present in the Ruby Blast.
Basic Concept
you must have played many games which involves matching of three same colored objects to remove them and increase the points. Here in Zynga Ruby Blast, the same concept is followed, you have to find group of same colored rubies and click on any of them to remove them from the board. A new twist where we have to reduce the rock below the board by blasting the rubies above them is added. As we blast the rock completely from the board, an extra time will be awarded for reducing the rock to more depths. As you go on blasting the rubies and breaking the rock below, you will find many bonus items and power-ups. You can combine these power-ups and bonus items to break the rock more efficiently and get more points and time. You have to gain level and beat your Facebook friends and Zynga friends to get on the leaderboard.
Gameplay
As you start the game, a table filled with colorful rubies will be displayed. You will have to find group of same colored rubies adjacent to each other. You have to blast these rubies where three or more are present on the board. You have to click on any of the ruby in the group to make them disappear. Every such blast will award you with points. More bigger the group, more points and bonus combos will be awarded. You will have 40 seconds in the start of the game. You have to dig the rock at the bottom and finish the rock to extent the timer by 10 to 20 seconds and get more opportunity to dig the next rock.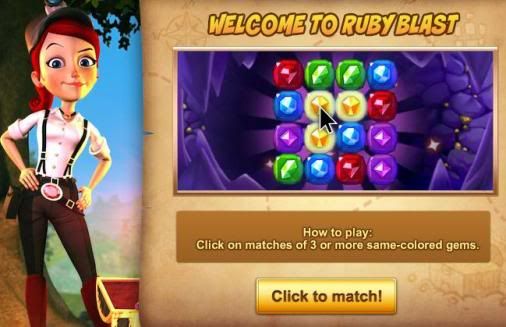 Currency
As we all know that social game have in-game currency that can be used to purchase in-game items.
Gold Coins are the basic currency of Zynga Ruby Blast. You will be given 1000 gold coins when you begin the game and you can buy the first two power-ups that you can use in the game with these coins.
You will find Emeralds in Ruby Blast as the secondary currencies. These Emeralds are high level currency and using it you can get good power-ups that you can use for clearing the rock on the screen faster. With Emeralds you will get huge advantages due to powers like 'Power Shuffle' and others. You won't be able to use these Emeralds until you reach Level 6 of the game.
Sapphires are also another type of high level currency available in Ruby Blast. You can get the Sapphires by using third power-up to dig the rock.
Blast Bucks are the virtual currency in the game that can be purchased using the real money. These Blast Bucks can be used to purchase any other currency, power-up or energy to extend the game. These Blast Bucks can be purchased using the Facebook credit and PayPal account. There are various offers available for Blast bucks which can be used to redeem the in-game items.
Energy
You will need in-game energy to play one level of Ruby Blast. The cost of one level of Ruby Blast is 5 energy. Since the energy is limited in this game, it is recommended to use it wisely and achieve as much high score possible in every level you play. You can get bonus energy from your friends as a gift or you can buy it from the in-game market by use of real money. You will get 25 energy in total and you will see it on the top of the screen in yellow color denoted by the symbol of thunder bolt. One energy will be recharged every four minutes of real time.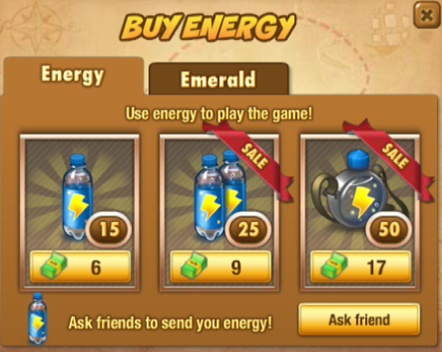 Special Blocks
As you go on digging deeper in Ruby Blast, you will find some special blocks which will give you bonus items that can be used for benefit of one's game. The following is the list of special blocks that you will encounter while digging the rock in Ruby Blast,
Gold block will give bonus coins when broken.
Ruby Gem will give bonus experience when broken.
You will also find Bomb that will break everything surrounding it, needs to be clicked to be activated.
Point multiplier will give additional points when broken.
Neighbor's drill will give more power-ups as you go on breaking the rock. This block will appear more in number as you increase the number of friends who play Ruby Blast.
Cherry bombs can be found while digging the rock. These bombs can clear a section of rubies when clicked to activate them.
You will also find 2x bonus, that is it will multiply your score that you earn by 2 giving you more score to be on top of the leader board.
Super Rubies are hardest to find. But once you find them, you can use them in middle of the game to release five rubies in the game.
Obstacles
Many times, some obstacles will block your path while digging down the rock. These obstacles are hard to be broken and you need to make your way around them intelligently. You will encounter two types of obstacles,
You will encounter Iron Blocks. To destroy them, you will have to dig around them five times.
You will also encounter Laval Blocks. They cannot be broken in normal way and you will have to use power-up that can destroy blocks.
Special Bonus Power Mode
If you click on 10 matches or power-ups or bombs in row, then a Special Bonus Power Mode will be activated within the game. When this mode is active, you will be removing the matched rubies as well as the rubies around them. This mode will be available twice in every level if played properly. In this Special Bonus Power Mode, a meter will appear. You have to fill the meter to get power-up using which you can easily clear an entire layer easily. Also the meter can be filled twice. When the meter is filled for the second time, you will be able to clear two rows automatically each time. If you are in a level where there are obstacles like Iron or Lava blocks present, then you have to enter this mode to destroy these blocks easily. You must try to get into Special Bonus Power Mode as soon as possible in every level.
Power-ups
There are five types of power-ups in Ruby Blast that can be purchased. You can equip yourself with three of them depending upon the style of your game or money you have to afford them. Each of this power-up unlocks with levels you gain and has some cost. You will have three slots where you can place the power-ups that you need to use during the game. You can even play without the power-ups if you have no money to buy them. Here is the list of items in order of unlocking according to levels,
Nova Flare which costs 150 gold coins can destroy one row and one column of rubies and rock when used.
Starfall which costs 350 gold coins will drop three meteors from top of the screen. These meteors destroy three columns of rubies and rock
Shuffle Magic which costs 20 Emeralds will shuffle the rubies such that they will form large groups of similar colors on the board. You can click and blast these groups to get large amount of points and bonuses quickly.
Cherry Bomb which unlocks at level 10 can blast rubies with triple explosions. These can also be found in the rock while digging.
Another power-up is present in the game which has no name and has no other details. It will unlock at level 20 and one will need to play till there to find out what it does.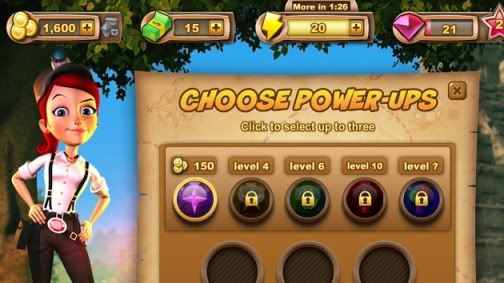 Tournaments and Leader Boards
A weekly tournament will be organized in the game based on the points that a player earns during a week. The first three people to have highest points will appear on leaderboard and will be awarded bonus prize in form of coins, energy or power-ups. These leaderboard will be reset every week and new points tournament will start. The second leaderboard shows the ranks of friends based on the amount of rubies they have collected overall.
A challenge your neighbor tournament is on verge of coming soon. You will have to keep playing the game to find out what it is when released. Maybe it will let you compete with your Facebook friends and Zynga friends to play single game together.
Strategies
Some strategies and tips that you need to know before you get into the higher levels of Ruby Blast. The beginning levels will be quite easy, but as you proceed, the difficulty will increase with you find less number of groups and more obstacles. I'd like to give you some basic strategies that you can opt for getting many points in the game.
You must use the power-ups like Nova Flare, Starfall and Cherry Bombs in the beginning of the game as you will reduce as much rock possible in the beginning resulting in reduced pressure later. The Shuffle Magic power should be used in last 10 to 15 seconds as they provide best opportunity to clear large number of rubies all together.
Keep focusing on the bottom rubies as the main objective of the game is to keep digging deeper and deeper down the pit. Also notice that as you proceed down the pit, you will see decrease in number of matching color groups will start. So at such points, you can use Shuffle Magic power-up to get out of it quickly.
Save the drill for the last as if tie is time is running out and you can make your way out of it much quicker.
Try to get into the Special Bonus Power Mode as quickly as you can. It will need bit of a practice, but faster you learn, better you achieve points. You will need to blast 10 groups in row to get it. Using this power, you can go on blasting a complete row of gems in one blast. It proves really helpful when you have obstacles in your board.
I hope that this guide has helped you play Zynga Ruby Blast more effectively and you have understood the basic powers and the contents of the game. The game is new ad will go on developing further. So many new features, power-ups and items might get added later. Thanks for reading.