There are various ways to install Windows operating system. You can do it with DVD or Via Bootable USB. But if you have any kind of compatibility issue wuth your system and Windows 8, you can take the help of Microsoft Utility. We will show you how you can install Windows 8 Consumer preview or dual boot it with your existing Windows 7 system.
If you need to do a fresh install of Windows 8 than skip the following process but if you want to dual boot it with your existing operating system, you need to create a partition of about 20GB. If you don't know how to create partition, just refer to this article:
Creating Partition for Windows 8 Installation
.
Once your partition is ready, follow the below steps to install/dual boot New Windows 8 Consumer Preview without DVD or USB:
1. Open your browser, and visit this
Microsoft Site
. Enter your Email, select country, and click on the Blue button stating 'Download Windows 8 Consumer Preview'.

2. This will download a small .exe application. Save the file to your desktop, once downloaded double click to run it.
3. This tool will first inspect your system for compatibility and let you know if there is any kind of issue. Like you can see in the image, my pc was facing 4 errors. Probably this won't interfere your new installation as we are going to install it on new partition. These errors will matter only if you are upgrading from Windows 7 to windows 8. Just ignore it and move ahead by clicking on 'Next'.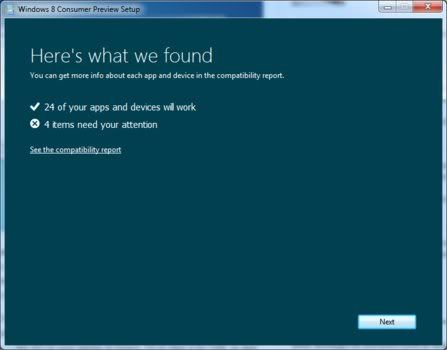 4. You will get a prompt for the confirmation to start downloading Windows 8, confirm by clicking on Next.
5. This will start the download and provide you a Product key. Simply not down the product key and wait until the download is completed. It may take hours depending on your Internet speed as the file size is about 2.5GB.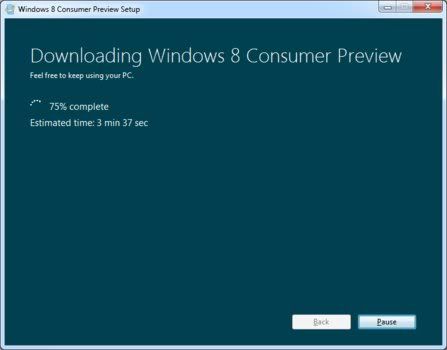 6. Once the download is finished, you will get the following screen with 3 options 'Install Now', 'Install on another Partition' and 'Install Later'. If you want to install now, simply select the option and click Next.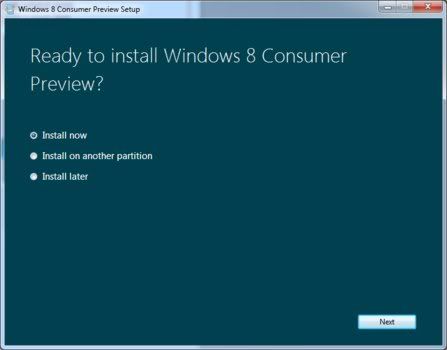 7. Now you get the screen where you need to make the crucial choice. There will be 2 option 'USB Flash Drive' And 'ISO file to burn to a DVD'. Choose your option whether you want to install with DVD or USB and click Next. (But recommend DVD.)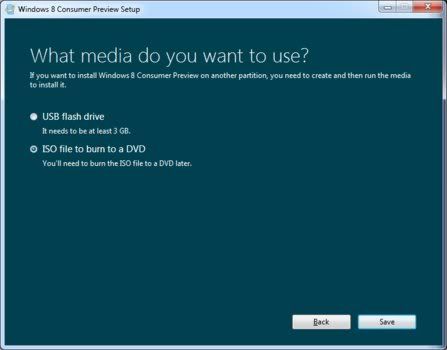 8. In my case I selected DVD. If you too, insert a DVD in DVD rom, and click Next. System will burn the ISO that will take around 7 minutes.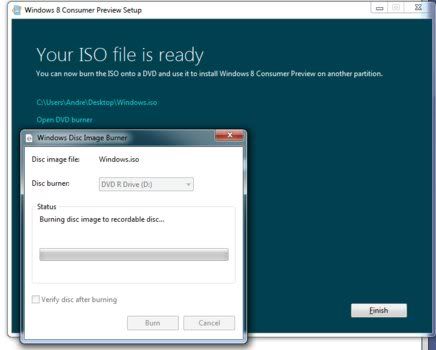 9. Once your DVD or USB drive is ready, reboot the system, enter BIOS and change the boot drive (DVD or USB).
10. Save and Exit BIOS, when system reboots next time, start the installation.
11. When you see the Windows Installation window as shown in the image below, open this Article and follow the rest of the process.
Dual Booting Windows 8 Consumer Preview and Windows 7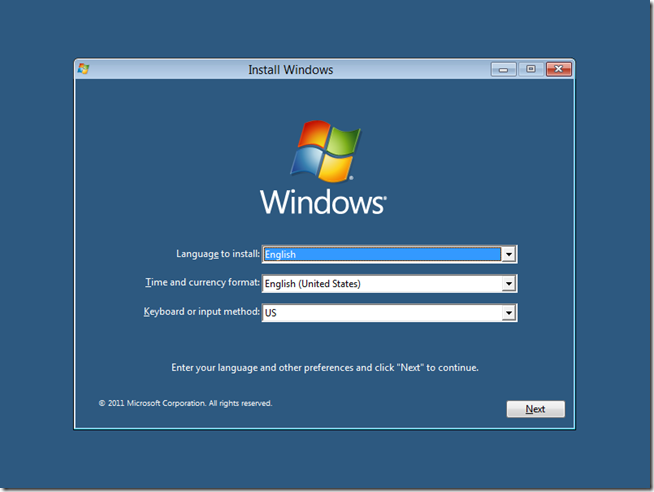 That's it.. Once you are done with all steps, your new Windows 8 Consumer Preview system will be ready to use. If you have doubt or issue in above process, feel free to ask here. Soon I'll be updating how to install windows 8 from a Bootable Flash Drive.