29-07-2010
Member

Join Date: Apr 2010

Posts: 206
How to enable Facebook Push Notifications on your KIN and other Mobile Phones
---
Facebook is continued to be used more extensively for social networking. Perhaps , You will not know that somebody responded to something you have posted Or most likely if you want to be directly notified whether someone responded to your post.

In this article we will be talking about the procedures to enable the facebook Notifications either by E-Mail or by SMS on your cell phone. The best part is yet to come, I meant to say that you can respond to that notifications by simply replying to the emails and text messages that you have received on your cell phone. Your mobile phone skills will be enhanced by enabling these facebook capabilities.

For enabling the push notifications on some of the cell phones you will have to go to your Facebook account on the desktop for setting this up. You will receive a E-mail or a text message as soon as someone comments or post anything on your wall remember you will be charged accordingly by the Network service provider.

Steps for Enabling Facebook Push Notifications on your KIN and other Mobile Phones
Go to the FaceBook Login Page


Enter the user name and password correctly.


Click on Account and select Account Settings on the right top of your screen you.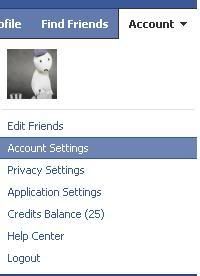 You will see a new page which will show the options which are shown below there Click on the Notification tab which is highlighted in the below image.

On this page You can notice that your email is readily listed and you can check on the list of preferences of different types of notifications according to your wish if you like to receive a notification by email the simply click the check box adjacent to the activity which you like to know when someone does it you can see that there are two check boxes the first is to get the email notification and the next for a notification by text message.